Having a clean and hygienic working environment is crucial for a number of different reasons. It safeguards your staff against the spread of germs, helps to promote higher productivity levels and gives you a professional image that is important for staff and clients alike.
It is for these reasons that hiring an experienced, thorough commercial cleaning company that will help to make your working environment sparkle is so important. In this blog, we're going to highlight some of the main reasons why you should consider a commercial cleaning service for your business.
Tatry Group has a dedicated cleaning force that is passionate about commercial cleaning in Milton Keynes. We understand the importance of great cleaning and will provide a professional, high quality service for all of our clients.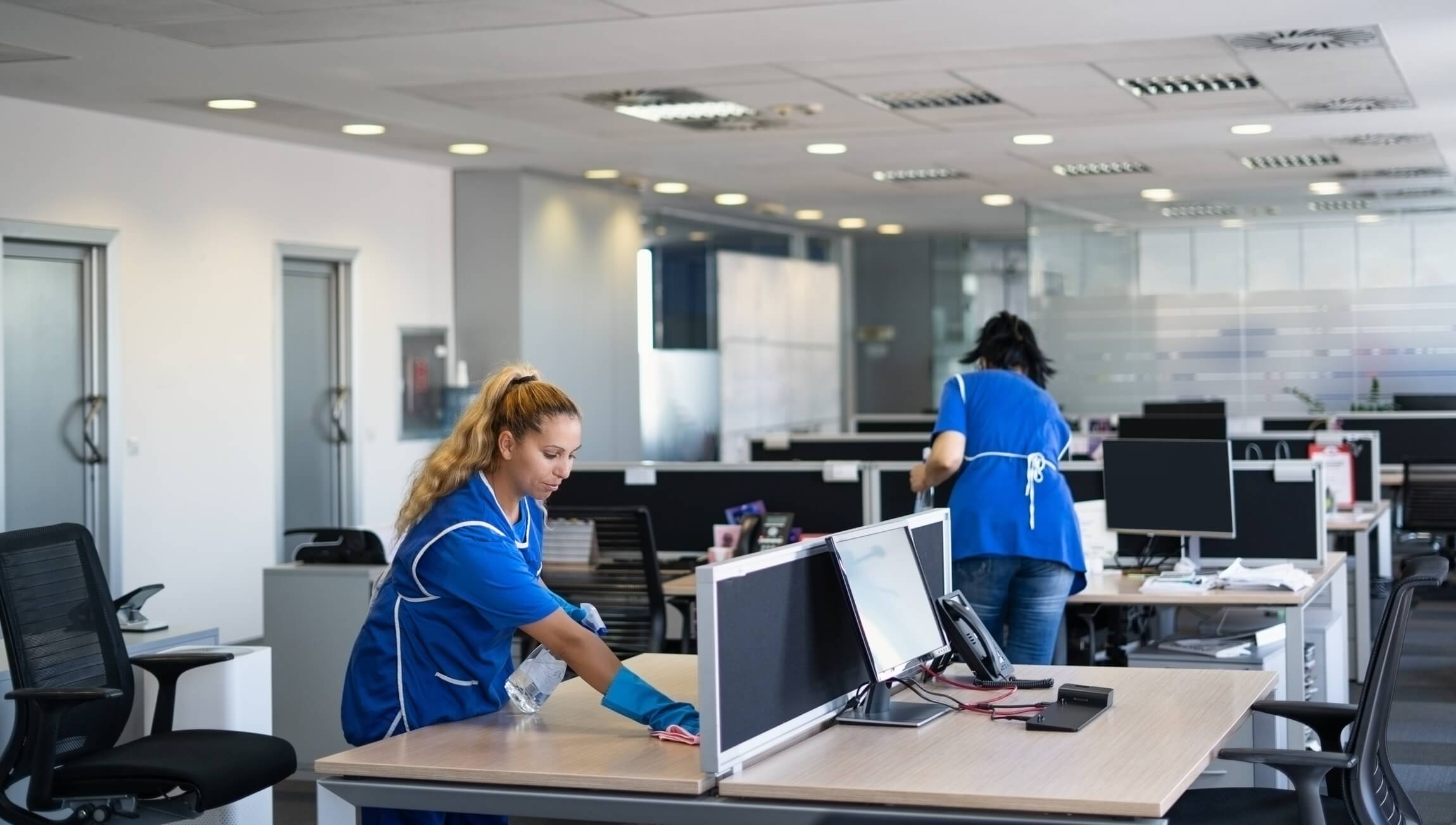 1. Reduce the spread of germs
Well trained professional cleaners will ensure that surfaces in the workplace are cleaned to stop the spread of viruses and bacteria. The workforce will, as a result, have less sick days and be more productive. It is also your duty as an employer to provide a safe, hygienic space for your staff to work. Lessons learned from Covid highlight the need to keep the working environment clean!
2. Create a Professional Appearance
Appearances matter! Clients and customers appreciate a clean and safe environment and it promotes a better image of the company. Your clients need to be able to trust your business and see that you are serious about your work, and having a clean workspace is a quick, simple way of getting this message across.
3. Higher Staff Morale
Your employees morale will be directly affected by the cleanliness of their environment. No one wants to work in a place that is dirty and stuffy, so hiring a commercial cleaning service to clean your workspace before your staff come into work will boost their morale. Higher morale means happier staff, which helps to keep your staff turnover low and your workforce more productive.
4. Higher Productivity Levels
Similarly to higher morale, your staff will also be more productive in a clean, safe working environment. Having documents and equipment organised correctly will make everyday working tasks easier and more efficient. As well as this, if your staff don't think that you as the employer are putting in the effort into the cleanliness of their workspace, they are less likely to put in the work for you.
5. Save Money
Did you know that hiring a commercial cleaning service can also be kinder on your finances too? Regular deep cleaning helps to maintain company facilities and equipment, avoiding the need for frequent replacement. You are also more likely to spot when something is getting to the end of its life through regular inspection, making it easier to prevent hazardous situations that could cause unnecessary downtime. Well-trained cleaners can take care when dealing with period features, decorations, and electronic equipment, avoiding damage to delicate items.
6. Easier to Manage
Outsourcing your company's cleaning services means that managers don't have to spend time micromanaging an in-house cleaning team which takes up valuable time. Hiring an experienced and trusted commercial cleaning service means the hard work is done for you and you can concentrate on other important areas of your business.
Why Choose Tatry Group?
Whether a company is large or small, outsourcing your commercial cleaning in Milton Keynes has many advantages.
Outsourcing avoids micromanagement, can help streamline the business, and frees time up to focus on the core activities of your company. Commercial cleaning solutions will be designed to match the needs of your business, whether it's an office environment or a healthcare business, understanding that different environments may require different cleaning methods, equipment and products to gain the best outcome.
Tatry Group is proud to work with a range of commercial businesses to ensure that their working environments remain clean, safe and hygienic at all times. For high quality and tailored commercial cleaning in Milton Keynes, contact a member of our team today. Or call us on 0800 4118671 or visit our contact page to find our contact form.