A clean desk policy indicates to employees how they should leave their desks at the end of each day. It's a simple way of ensuring your company's security as well as improving the productivity and efficiency of our staff.
​
What Is A Clean Desk Policy?
When a company has a clean desk policy, it often involves removing any sensitive information from their desks, for example, papers with personal data or company information. It's not limited to just paper; it can also include notepads, USB sticks, printed documents and other electronic devices such as mobile phones.
​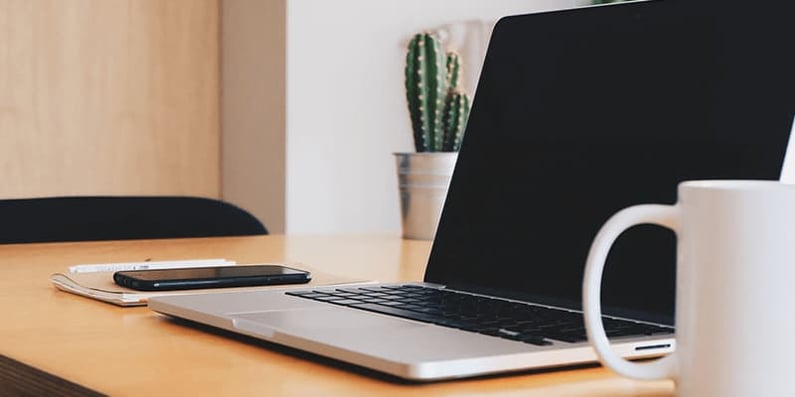 Why Should I Consider A Clean Desk Policy?
The primary purpose of a clean desk policy is to create security for your company. Still, it is now more evident that it also benefits employees by creating a more productive and efficient working environment. Clean desk policies go hand in hand with cleaning services in bedford, as they allow your office to maintain its high cleaning standards while providing a professional atmosphere.
​
There are several reasons why you may consider having a clean desk policy for your business, these include:
A clean desk policy showcases how much paper your business uses for unnecessary documents. Having a clean desk policy encourages companies to take their documents online, making them greener! It will also cut down on your annual costs and enables staff to work more efficiently and away from the office should they need to.
​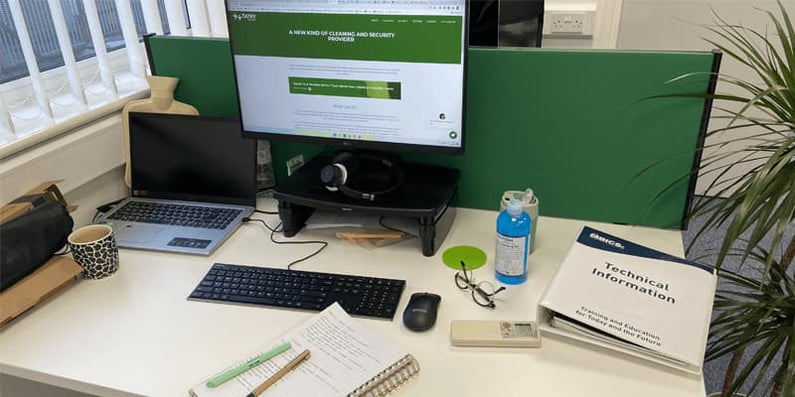 Keep Information Safe And Secure
One of the most apparent benefits is that you are keeping documents and information private by having a clean desk policy. All documents, USB keys and other devices that host personal or company information should be locked away, preventing any data loss. Notepads and sticky notes are often left on desks; however, a vast number of employees use these methods to jot down important and private information while working, so it's essential they are put away.
​
Looks Good To Clients Or Guests
A messy desk doesn't look good to anyone and can often impact low employee productivity. Many offices are now modern and open plan; when guests visit, they can see the whole expanse of the office, and clutter can stick out like a sore thumb. A clean desk policy generally creates a more positive workplace for your employees to work in and looks more professional to those who visit.
​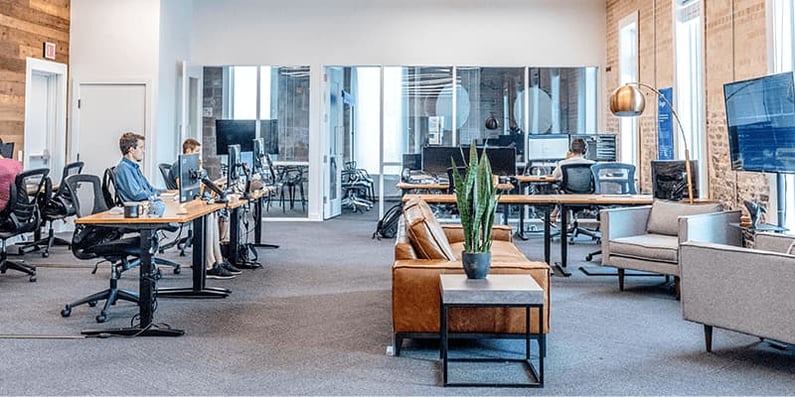 It Gives Employees A Sense Of Pride
Not only does a clean desk give your employees a sense of pride, but it also gives them back time within the day. 57% of people stated that they felt judged by the messiness of their workstations; employees were also able to work 7.5 minutes longer without any distractions with a clean desk. By having a clean and tidy workstation, employees are clearly focused, allowing them to complete tasks, projects, and other priorities effectively.
​
A clean desk policy benefits your cleaning team; it reduces the amount of time the cleaner has to clean the workstation. By having a neat and tidy desk space, your cleaning staff can effectively clean your desk, ensuring it's disinfected, dust and debris free. With cleaning times shortened, it allows your team to use their time more efficiently and cover more ground throughout your office.
​
Over the past couple of years, many businesses have changed the way they work, with employees now working from home regularly. Hot desking has significantly increased; therefore, the need for a clean desk policy is essential.
​
Importance Of A Clean Desk Policy & A Clean Office
We have seen an increase in the number of businesses now looking for
office cleaning in Milton Keynes
and surrounding areas. The need for clean workstations and office spaces is essential to any organisation's day-to-day running.
​
As previously mentioned, not only does it improve the productivity and efficiency of your employees, but having a clean desk policy and an office cleaner reduces the risk of days taken off sick and illness spreading throughout the office. The last two years have taught us that illness can spread quickly if a workstation isn't well sanitised. Having a clean workstation is critical for keeping your business and employees safe.
For more information on cleaning services in luton and other areas we provide here at Tatry Group, visit our website or get in touch with a member of our team on 0800 411 86 71.