Shopping can be a treat or your weekly food shop, but most people want to know the store they are entering is clean and hygienic no matter what is being sold. Having your store cleaned daily can give your customers a great first impression and delight them in returning to your shop.
Customers enjoy shopping in a welcoming space that provides comfort. To help enhance your customer's shopping experience, we have devised a list of cleaning techniques you can use to incorporate into your daily cleaning routine. We have also created a free retail cleaning checklist that you can download for your internal teams.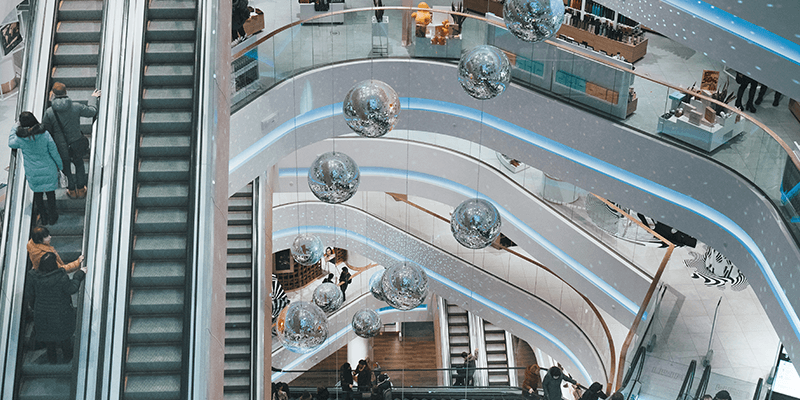 Our Top Tips On How To Clean A Retail Store
Firstly, you are going to want to conduct a cleaning audit. By completing an audit, you can see where your cleaning may be lacking and what it is you need to improve on. It would be best if you had an audit for every section of your store; this includes the shop floor, washrooms, staff kitchens or canteens and corridors. We also recommend speaking to individual team members to see if they have any concerns regarding the cleaning of your retail facility. It may indicate that you require more in-depth cleaning or more cleaning team members.
Once you have established where your store cleaning may be lacking, you want to consider who and how your teams will complete the changes required for higher standards of cleanliness. If, after conducting your audit, you have found that it may not be achievable for your internal teams to complete the cleaning needs of your store, you may want to consider using an external retail cleaning provider. There are several cleaning services in Milton Keynes and surrounding areas that will ensure your store is left immaculately clean.
Where To Start
Before you start any commercial cleaning, you need to make sure you have fully decluttered all sections of your facility. This includes any boxes you may have stacked up in your corridor or items left you in the canteen that never get put away.
Dusting
Dust can build up quickly in shops on shelves, blinds, rails, and mannequins. When not cleaned daily, it often settles into a dark muck that can be evident when lights shine. Your store is susceptible to dust due to the high volumes of footfall. While it isn't pleasant to look at, it can also be a hazard. Dust can ignite quickly, so if you have a heater or lights that emit heat, you must stay on top of dusting.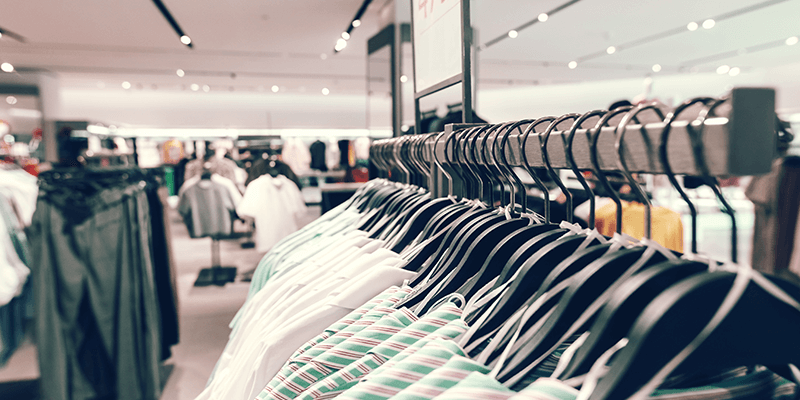 Glass and Mirrors
After a busy day, you will find a significant amount of fingerprints over your glass fixtures and mirrors. It would help if you allocated time each day to go around your store and clean all areas with a specialist glass cleaner.
Washroom
Whether you have washrooms for your staff or your customers, your cleaning staff should check them every couple of hours. It's essential to maintain the highest level of cleanliness throughout these areas. According to AQVA, you are more than likely to find around 77,000 types of bacteria and viruses in public toilets.
When washing the washrooms, you should always start from the top to the bottom; that way, you're not using a dirty cloth on the handle or flusher of the toilet. We recommend following the BICSc colour-coded system for cleaning; this means no one will be using the same cloth to clean multiple areas.
Canteens and Kitchens
Your staff work hard throughout the day, so they want a clean and welcoming environment to relax and unwind in when it comes to break time. With multiple staff members using these facilities, they can quickly become untidy and unclean. Staying on top of this cleaning is essential for hygiene and your staff's well-being.
Asking staff to ensure they have put all food produce, cutlery and kitchenware away or in a dishwasher can help cut down the overall cleaning time of your kitchen area. All food waste should be placed in general waste or food waste bins.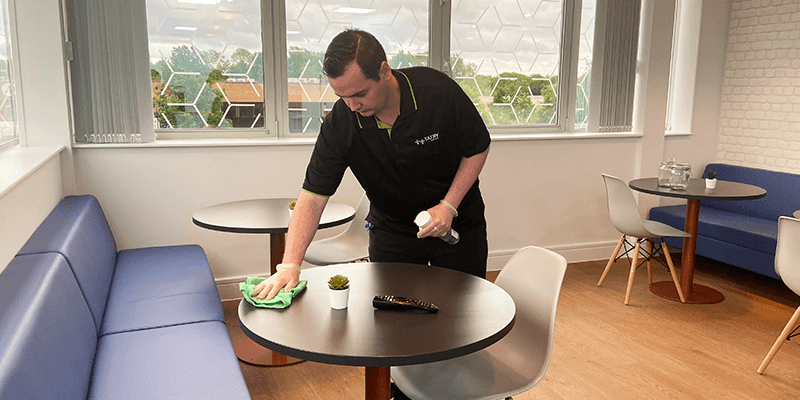 Shop Floor and Carpets
Ideally, you want to stay away from installing carpets in a retail facility. With large footfall and the ever-changing seasons in the UK, carpets can quickly become dirty and stained, leaving them difficult to clean. If you have carpets, daily cleaning is essential to remove any debris and dirt.
All hard floors should also be mopped daily to remove any dirt, spillages or bacteria from the floor. Dirty floors can often cause hazards, so you want to be on top of your cleaning schedule.
Sanitisation
Make sure you are sanitising your store daily; after covid, more store owners have become aware of the bacteria that builds up on touchpoints and surface areas. With regular sanitisation, you make your store a safer place for both staff and customers.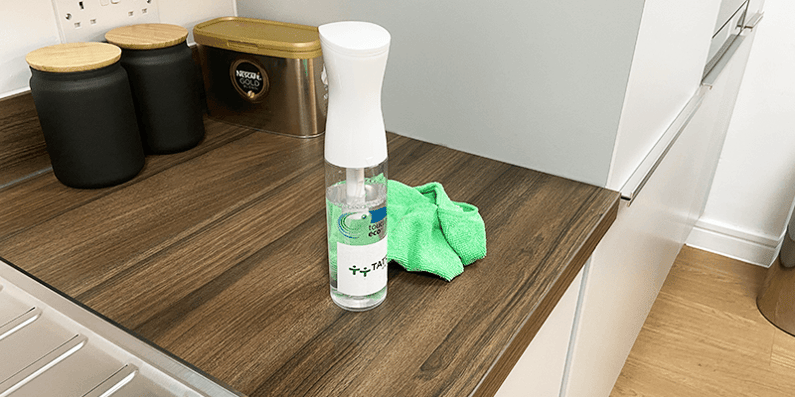 Retail Cleaning Checklist
We've devised a tick list that you can download for in-store use to ensure you and your colleagues are accountable for the store's cleanliness. It also helps you track what you have already cleaned and what you might be missing off your list.
Entrances and Exits
Clean all glass surfaces, including fixtures and mirrors

Clean all signage

Dust and Clean all security bollards
Shop Floor
Dust and sanitise all surfaces, fixtures and decor

Vacuum and sweep all floors and furniture

Remove all waste bins and litter on the shop floor

Wipe all storage and cabinets

Sanitise all surfaces and touchpoints, including till points

Spot clean any stains on furniture and floors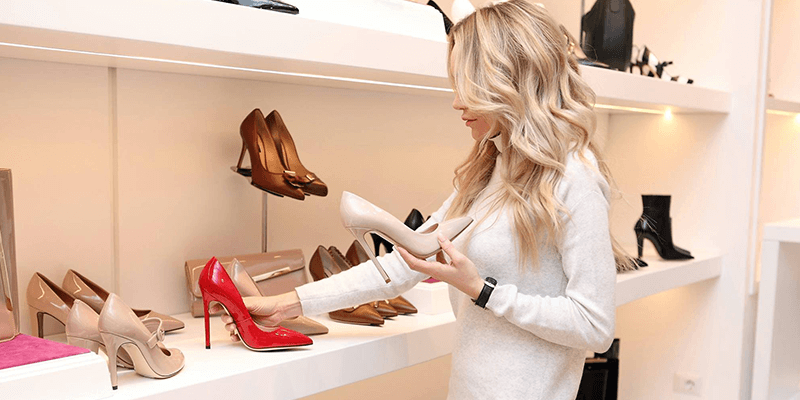 Washrooms
Empty all waste bins

Restock handsoaps, paper towels and toilet paper

Wipe and disinfect all sinks

Wipe and disinfect all toilets, baby changing stations and urinals

Spray and clean all mirrors

Sanitise doors

Sweep and mop all floors
Stairways and Corridors
Remove all waste away from the areas

Hoover and mop all carpets and hard flooring

Clean all glass

Sanitise all handrails
Back office and storeroom
Empty all general waste bins and replace liners

Clean all windows, glass and mirrors

Sanitise all door handles and touchpoints

Hoover and mop all floors

Sanitise telephone, light switches and keyboards

Wipe down all tables and chairs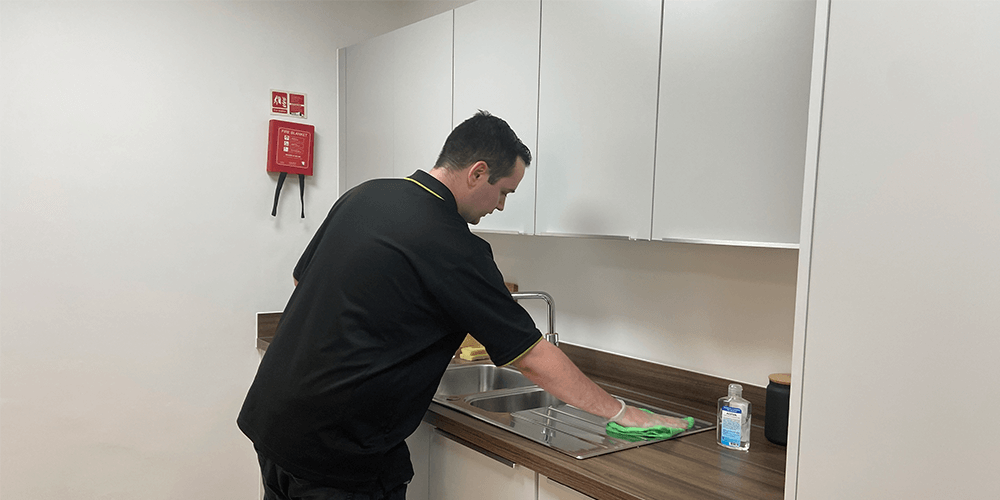 Canteen and Kitchenette
Empty all general and food waste bins

Remove and clean out all out of date produce left in the refrigerator

Unload with all clean dishes

Remove all debris and disinfect countertops

Disinfect all cabinets, appliances and touchpoints

Clean microwave inside and out

Sanitise all door handles

Vacuum and mop all flooring
What Do I Do If I Can't Complete All The Cleaning
We highly recommend looking for a cleaning company to provide retail cleaning services and commercial cleaning in Milton Keynes. Ensuring your retail environment is kept professionally clean can be tricky, but you can guarantee a seamless tidy store every day of the week with the right commercial cleaning company.
Most contract cleaning providers work with high street stores, shopping centres and stand-alone retail premises. When looking for a quote, make sure you are specific about the needs and requirements of your facility and, if possible, advise on footfall.
A professional cleaning company in Aylesbury can be more cost-effective, as it allows your staff to do what they do best and means their time is not spent elsewhere cleaning.
We Hope You Found This Useful
We hope while reading this article you found it helpful and our resources useful for in-store use. We recommend having our retail checklist visible to all staff, so they know what needs cleaning every day. It can also help you keep cleaning teams accountable for their daily tasks.
Don't forget that keeping a hygienic and cleanly store can give your customers peace of mind while shopping, creates a fantastic first impression and ensures you delight them into returning in the future.