Keeping a warehouse clean is essential to your supply chain's daily production and running. Ensuring products are kept safe, clean and pristine ready for their shelves is a top priority for warehouse staff, which is where commercial cleaning comes into play.
With staff often on the property 24 hours a day, it can be hard to establish a good cleaning schedule that can meet the demands of your facility. Working with a company that provides commercial cleaning in Milton Keynes ensures your warehouse is spotless and your teams work in a safe and welcoming environment.
Warehouses and industrial units are very demanding, with goods coming in and out regularly. Dirt, grime and mess can quickly build up, leaving staff members stressed and deflated. A clear and clean warehouse can promote & increase productivity and the efficiency of your team members and maintain the quality of your products.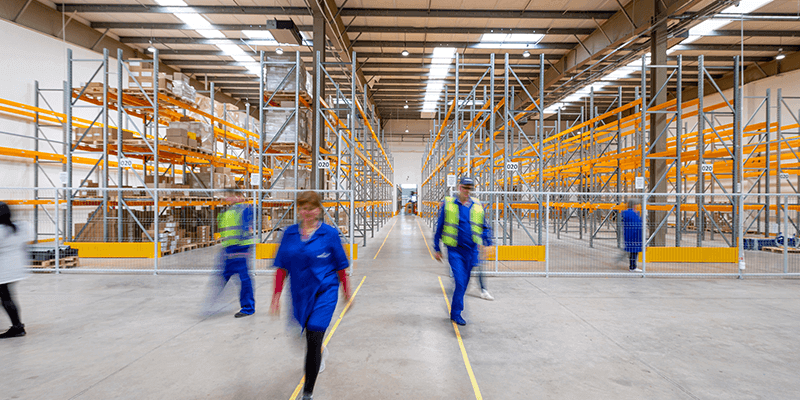 Implementing Internal Cleaning Policies
Before looking for a commercial cleaning provider, start with your internal teams. Having the right policies in place can help you prevent the build-up of mess. Much like offices have a clean desk policy, ensuring all staff keep their workspaces clean and tidy benefits them from a cleaning aspect and contributes to their health and safety.
Ensuring your teams have the appropriate cleaning equipment on site will encourage them to keep their space clean. We highly recommend communicating your cleaning expectations and implementing a checklist that allows staff to meet your cleaning standards and procedures.
Productivity
Ensuring your warehouse is cleaned and well maintained gives your staff a welcome and safe environment to work in. With a clear workspace and clean equipment, the productivity of your team members is bound to improve.
When employees feel their health and safety are prioritised by management, it helps boost morale and efficiency. It evokes a sense of pride in their workplace, helping internal teams keep your facility neat and tidy.
Health and Safety
You will understand the importance of strict health and safety procedures as a warehouse manager or employee. With heavy equipment, large stock and multiple team members in one place at one time, we understand the need for strict safety precautions.
Daily cleaning also impacts the health and safety standards of your staff and can actively help reduce the number of accidents in the workplace. Slips, trips and falls are some of the most common non-fatal accidents at work in a warehouse, equating to around 145,530 accidents in the UK, all of which can be prevented with the right cleaning services.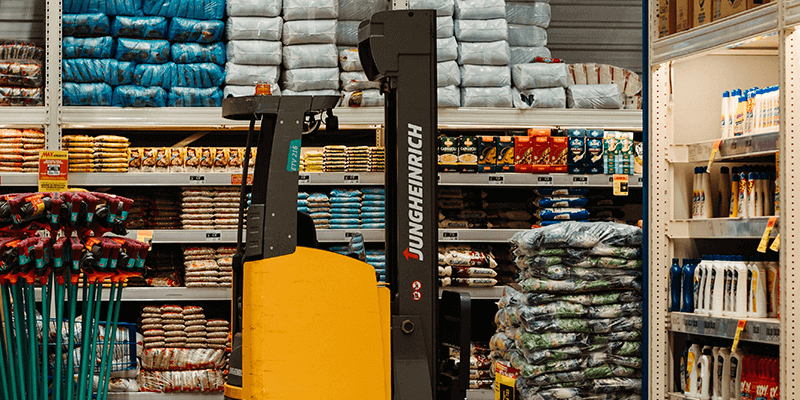 Inventory management
A well-organised and maintained warehouse allows for accurate inventory management. A clean and tidy space will enable you to stay on top of the stock and increase it where needed. You can ensure no stock is left behind and products are in the right place at the right time.
What Are The Main Areas To Think About When Cleaning A Warehouse?
Floors
High foot traffic throughout a warehouse can make flooring visibly dirty and scuffed. To ensure there is no debris left lying around that can cause an accident, we recommend asking your internal teams to sweep regularly throughout the day. Your specialist cleaning provider can then conduct a deep clean of your flooring, lifting all grease and dirt using innovative equipment.
Equipment
With many warehouses having minimal downtime, deciding when to clean equipment can sometimes be tricky. With a qualified cleaning company, you will find they can work around you, letting your teams get on with their own work.
Many warehouses have more than one team member using equipment; with heightened numbers of germs and bacteria travelling through these areas, it's imperative they are well sanitised. With cleaning standards maintained, you are likely to see a reduction in the number of team members taking days off sick.
Kitchens and Canteens
Most warehouses prohibit eating and drinking on the warehouse floor, which helps reduce the possibility of slips and falls. The canteen area is much more likely to become unclean as most staff use it for their breaks.
In warehouses, kitchen areas must be cleaned every day. Kitchen utensil build-up and the possible spread of mould are both prevented by routine cleaning.
A significant proportion of warehouse employees wear protective shoes, which can quickly get dirty, especially if they frequently go between inside and outside. The floors should be routinely mopped and disinfected to ensure they are presentable at all times.
Industrial Cleaning Services
Before beginning a cleaning contract, a cleaning firm might wish to perform a deep clean, depending on how dirty your facility is. This will not only eliminate the filth and grime accumulation, but it can also guarantee that your cleaning standards are upheld during the duration of your contract.
For warehouses, hiring a cleaning service is vital since it frees up your team to focus on what they do best. It can increase workplace productivity and efficiency while lowering the amount of missed workdays due to illness. You can also reduce the risk of stock loss or damage.