Office cleaning doesn't have to be complicated; once well-maintained, you can often complete your office cleaning within a couple of hours. Working from a checklist and developing a cleaning schedule is always preferable, regardless of whether you employ an internal cleaner or contract out your cleaning requirements to an external service provider.
A checklist guarantees that cleaning staff meet the high cleaning standards you demand and makes them accountable for their work. Knowing how frequently and when a certain area of your facility will be cleaned is made possible by a cleaning schedule. Your cleaning schedules may vary based on the size of the building and the amount of personnel you have on-site because every facility operates differently.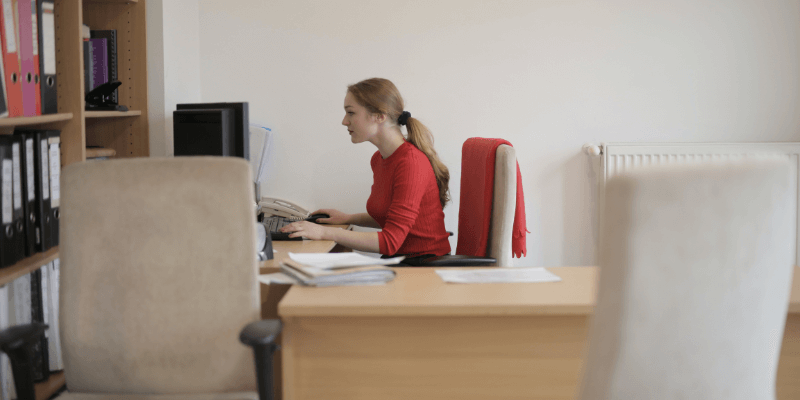 Creating An Office Cleaning Schedule
Within your office cleaning schedule, you will need to establish which parts of your facility require cleaning daily, weekly or monthly. A clean workspace promotes positivity, productivity and efficiency.
Kitchen and washroom spaces will always require cleaning daily; for every square inch of a washroom, you can find around 200 million bacteria. Kitchen spaces can become dirty very quickly with multiple people using appliances such as kettles and microwaves, all of which can harbour serious bacteria.
Office spaces are another area of your commercial property that will require daily cleaning; with more businesses using a hot desk method, you may find bacteria spreads quicker and can be at risk of increased sickness.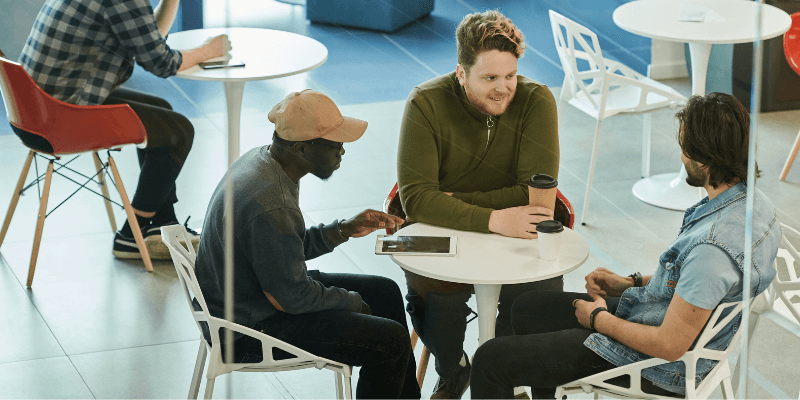 Office Cleaning Checklists
When creating your office cleaning checklist, we recommend dividing your office space into zones, such as offices, kitchens, washrooms, receptions etc. Doing so allows you to create a more in-depth cleaning system for each unique space. With this information, you can also allocate the right amount of time to a specific area; for example, you may recommend that your washrooms take 30 minutes to clean thoroughly.
Don't miss any detail within your cleaning checklist; you need to make sure you have tasks such as dusting, mopping and disinfecting.
You can download our free checklist for office cleaning by clicking the download button below. Within this document, you will find an in-depth tick list of what needs to be done for each area of your business.
Offices and Meeting Rooms
To make your office cleaning a little easier, we recommend implementing a clean desk policy, in doing so it means your internal teams should not be leaving any documentation, cups or other items on their desk at the end of each day. This makes cleaning your office space significantly quicker and ensures a higher quality of cleaning.
Sanitise and wipe all desks, and phones

Empty all wastebins and replace bin liners

Sweep and vacuum all floor areas of your office space

Mop any hard floor surfaces

Pull out and clean behind all moveable furniture

Spot clean all marks on walls

Wipe and dust all high and low-level furnishings, such as rails, skirting boards and storage units

Wipe all glass and internal doors, removing all visible marks
Washrooms
As we previously discussed, washrooms harbour a significant amount of bacteria and, when left without cleaning, can be the root cause of damage and sickness within your commercial property. Below we have outlined the key elements you will need to focus on when cleaning your office washroom; however, you can read a more in-depth analysis of how to keep a commercial washroom clean you can.
Empty all waste bins and remove all waste liners

Hoover and mop all hard floor surfaces

Clean all hand basins, taps, splashbacks, toilets, urinals, and hard floors

Remove all visible marks from entry and exit doors

Clean all mirrors and glass

Clean all hand dryers, soap and cream dispensers

Replenish all soap, sanitisers, creams and toilet paper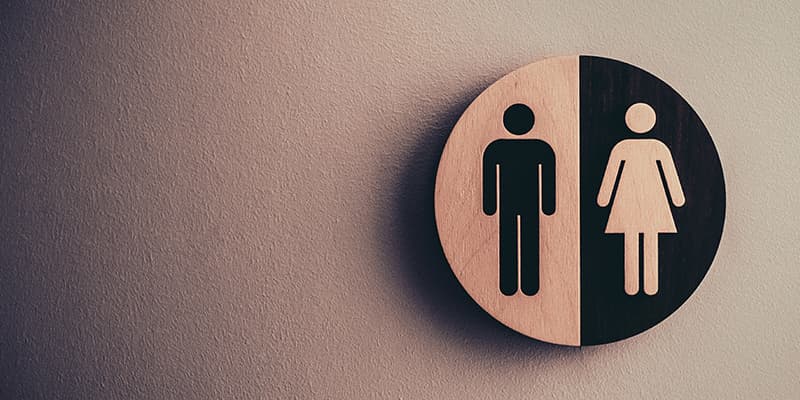 Kitchens
When it comes to your kitchen spaces, if you have dishwashers, it is worth asking your internal teams to place their used items within them after use; this way, your cleaning teams are not having to walk around collecting cups. Your cleaner should also turn the dishwasher on as the first task they complete; this means by the time they have completed the full office clean, it should be ready to empty at the end of each shift.
Empty all waste bins and remove all waste liners

Vacuum and mop all hardwood floors

Wipe down and descale all sinks and taps

Wipe down and remove all visible marks from cabinets and fridges

Clean any water and coffee dispensers

Clean all moveable furniture, such as chairs and kitchen tables

Cleaning inside and outside of all fridges and freezers once per week, removing all out-of-date food items.

Spot clean marks from walls using a damp cloth

Wipe and dust all tops of cleaning cabinets
We also have an office kitchen cleaning checklist which you can place in your canteen or kitchenette for internal teams to see. This way, they can also stay on top of and keep your kitchen space tidy.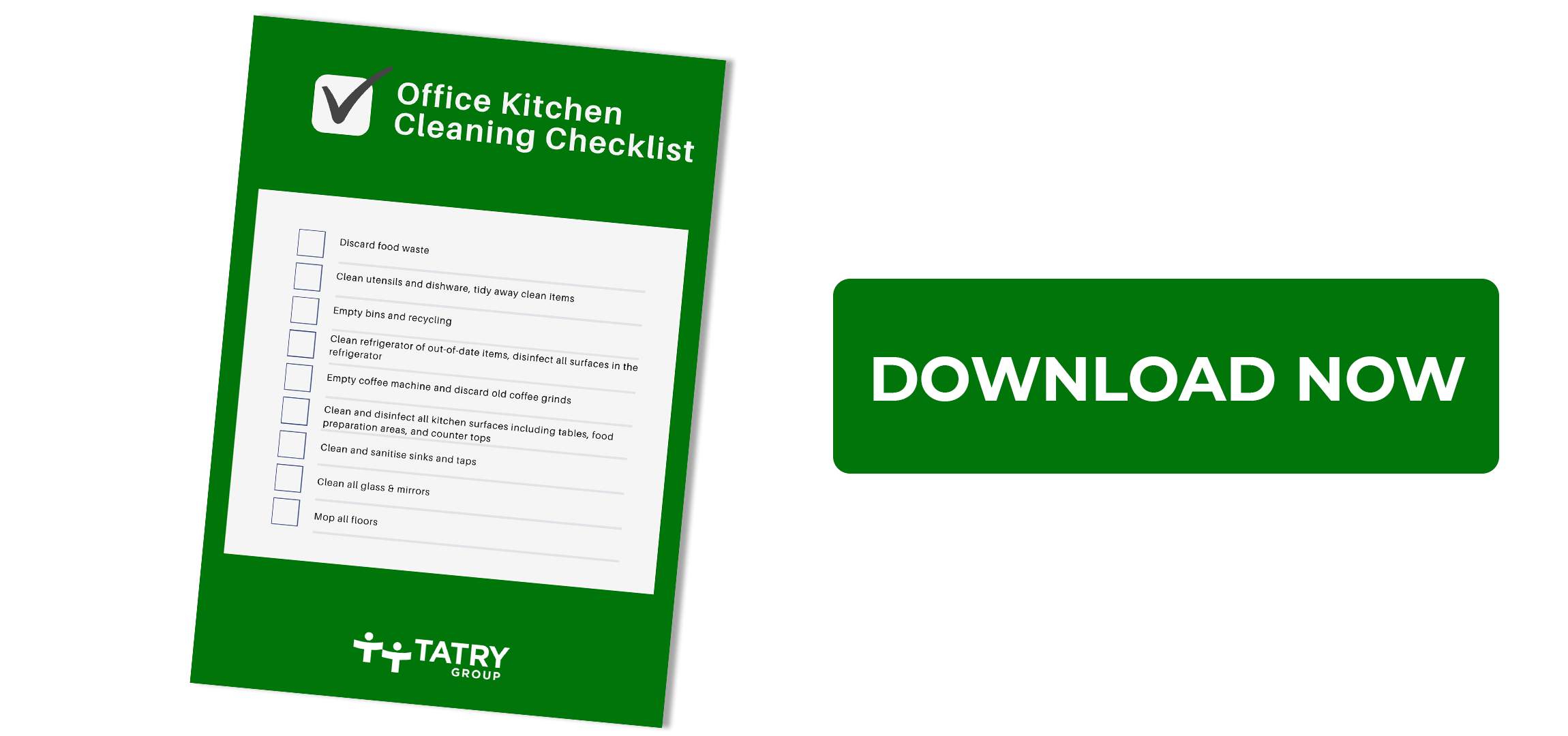 Importance Of Cleaning
Staying on top of your office cleaning is imperative for the health and well-being of your staff. Not only does it create a warm and welcoming environment for your teams to work in every day, but it can also promote productivity and efficiency. It is also exceptionally important to the safety of your facility.
An unkempt property can cause a number of hazards, from slips, trips and falls to fire hazards, if cardboard is left in an unsafe location.
Working With High-Quality Service Providers
If you are looking for an organisation that can provide you with outstanding commercial cleaning services, get in touch with a member of our team on 0800 411 86 71 or book a meeting with our Sales Manager.
We provide bespoke quotes for every facility we work with to ensure we meet the high standards, needs and requirements. Our teams collaborate with you by conducting regular site visits, completing site inspections and audits as well as providing ongoing training to your cleaning staff.
If you are unsure of how to purchase or what you need to look for when choosing a commercial cleaning team, check out our detailed commercial cleaning buying guide.