Warehouse security is somewhat essential to any organisation's day-to-day running. The security management you have in place can reduce stock shrinkage, ensure the safety of your staff and prevent criminal activity from being taken against your property. Warehouse spaces are often such large areas to cover; as a facility manager, you must ensure your unit is protected at all times.
To help you understand why your organisation needs security services in Bedford, we have delved into the potential threats you may face, challenges that in-house security teams uncover, actions and best practices for warehouse security. Finally, what you should be looking out for when choosing a security company in Milton Keynes to work with.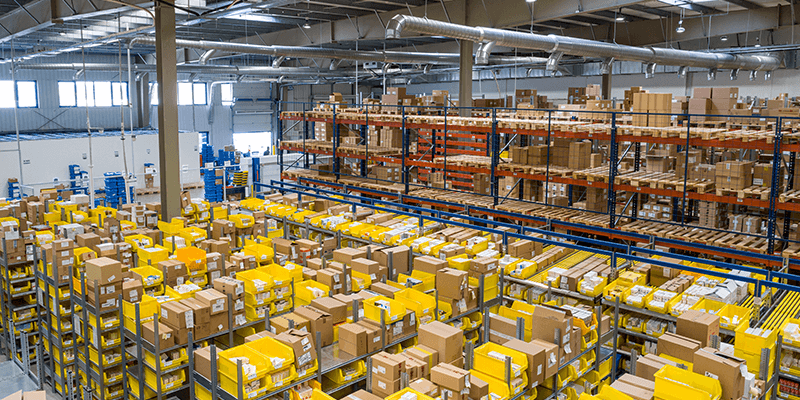 What Is Warehouse Security Management?
For any large scale or commercial business, you will depend on your warehouse to store valuable products or components for your production line or stores. Without the correct security measures in place, your organisation could face a considerable financial loss.
Warehouse Security Management is a service generally outsourced to an expert company that provides bespoke security solutions. There will be several security measures for many warehouses that remain the same, for example, having external and internal patrols of your property, gatehouse security guards, and CCTV monitoring. However, organisations may go a step further and ramp up their security with drone patrols, k9 units, and more for larger operations and high valued warehouses.
What Are The Biggest Risks Your Warehouse May Face?
Break-Ins
One of the most significant security risks to your warehouse is break-ins; it can often be hard to scale your industrial security with large square footage. Without the right infrastructure, your property may also be vulnerable to products loss and damages, so your facility manager should address it as soon as possible.
Fires
Warehouse fires occur more than you may think. Whether it's from a hazard within the property or arson, this could be detrimental to the value of your stock. With regular monitoring of your warehouse and the correct maintenance services, you can significantly reduce the risk of fire.
Internal Theft
It's essential to trust your employees, especially if they are in areas of your property that may be hard to see or when supervising staff are not in attendance. According to Peninsula, employee theft is not just taking items from your production line or warehouse storage. It can include cash, supplies, company property, personal data and time.
While you may expect internal theft to include tangible items, time is often not considered a loss. However, if you have staff members regularly not turning up on time, but still have their colleagues clocking them in, you could be losing a considerable amount of money in wages paid but not worked.
In the UK alone, there had been more than five thousand employee thefts in 2021; while this is a significant decrease from previous years, it's still a substantial amount of product theft.
External Theft
As a criminal act, external theft can be extremely damaging to your property, as the criminal will often have to seek entry before taking anything. Again this shows weakness in your infrastructure and should be addressed immediately. ORC, formally known as organised retail crime, is on the rise, often undertaken by significant gangs that will also use violence to gain control of your warehouse.
Damages and Vandalism
While you may think that vandalism is only a minor crime, it can cause a consequential amount of damage to your property. It can make your building look bad and cost you a considerable amount to get rid of and repair damaged structures.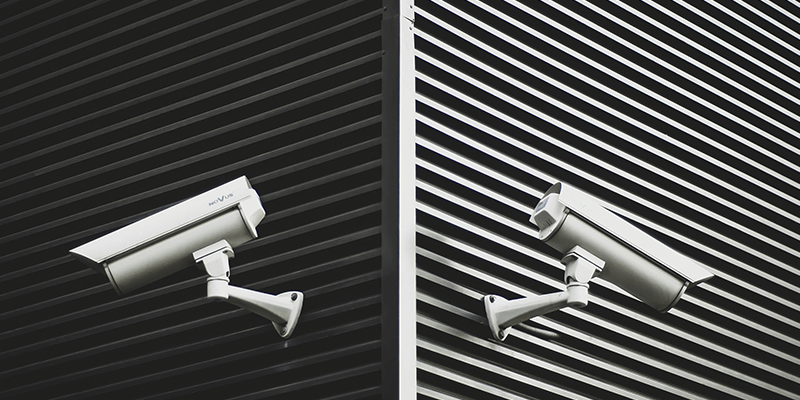 Actions You Can Take To Improve Your Security
CCTV Monitoring System
Make sure you have a high-quality CCTV system installed; this includes staff rooms and blind spots. CCTV not only allows you to monitor your warehouse but also ensures the safety of your staff.
Perimeter protection
Utilise a security team by having regular external patrols to ensure no point of entry has been made. Having a physical security presence at your premises will also help deter any criminals. The larger your warehouse, the more vulnerable it becomes; in some cases where your security team can, they may consider using drones to complete a full search of your premises.
Utilise motion detectors
Using a motion detector system alerts your security officers when someone is on the property when they shouldn't be. You can integrate this with other alert and alarm systems that instantly inform your control panel and on-site security teams.
Integrating Access Control Systems
Having a high-quality access control system means restricting and permitting anyone to have access to your site. You can do this by using a key fob or card; we highly recommend not using a code, as this can be easily distributed to multiple people. With a unique card or fob, you can see who should have been on your site at any given time. You can also give specific access to certain team members, allowing them into areas others may not be allowed entry.
Securing Doors and Windows
These are some of the most vulnerable areas in your warehouse and should have suitable security systems in place to inform your teams if someone is trying to enter. For example, a TUF-Door may be used to provide a robust and higher level of protection.
Hiring An External Security Service Provider
An external security provider can give you a bespoke security solution that helps meet the needs and requirements of your warehouse. Depending on the size of your premises, you may require a larger team and, therefore, more security measures in place to help protect and prevent any damages or theft to your assets and property.
Finding the right security team for your organisation can be made easy with these simple steps:
Licences
All staff that will be attending your site must hold SIA Licences; this ensures they are fully trained to the highest standards and understand the risks when dealing with certain situations.
Adaptable
While the company may have worked in your sector before, are they able to adapt their services to suit the needs and requirements of your business? Can their security personnel work around the clock to the times that best suit you?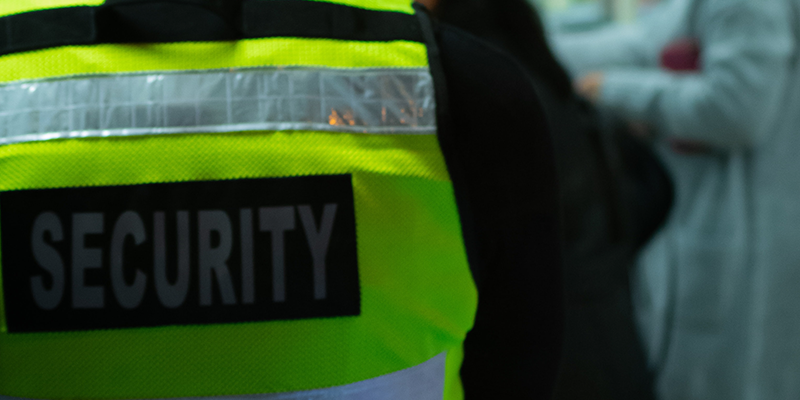 Professionalism
You need to make sure you hire a company that does everything by the book and professionally. This can be shown through how they interact with you and your teams and how they deliver their services. We recommend only hiring a security company that upholds the highest integrity.
Experience
Hiring a security company with relevant experience is imperative. You want to be able to have peace of mind knowing your facility and people are in good hands. With great experience comes knowledge and expertise.
Training and Support
Regular training is needed to ensure teams meet industry standards and clients' high standards. Make sure you find a security provider that regularly trains and provides ongoing support for their security personnel.
DBS Checks & Vetting
If you want to keep your staff and assets safe, we highly recommend ensuring all of your security teams are DBS checked and vetted.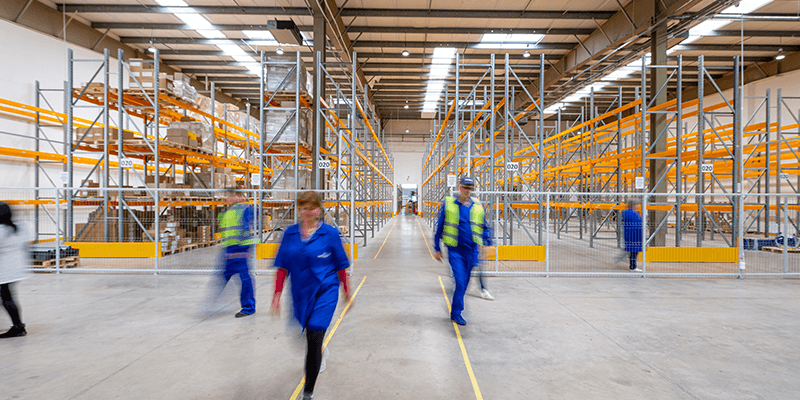 Think You're In Need Of Warehouse Security Management?
If you have followed this article through and realised that your facility needs a commercial security upgrade, get in touch with a member of the Tatry Group team on 0800 411 86 71 or get a quote. Our professional and reliable teams have the expertise and knowledge to provide you with a tailored service dedicated to your security needs.
Don't forget, with the right security management in place, you can prevent warehouse theft, stock shrinkage and profit loss. Damages to your property can be expensive and also harm your business's reputation. With high-quality warehouse security systems and officers, you can ensure your staff, assets, and property are protected and safe at all times. You also minimise the risk of having accidents at work, for more on this, check out, the best ways to avoid workplace accidents.
For more information on how to prevent retail theft on a wider scale, read our blog here.