Commercial cleaning refers to professional cleaning services that help create a hygienic and welcoming environment in the workplace. Commercial cleaners can carry out specialist cleaning services in offices, warehouses, retail, hotels, government buildings and education facilities. Since the pandemic, it has become more critical than ever to have a commercial cleaner. Having a suitable cleaning regime means your office space or place of work offers reassurance to your employees, customers and visitors that you take their health and safety seriously.
​
What is commercial cleaning?
​
Commercial Cleaning in Northampton can consist of daily cleaning, periodic cleaning and deep cleaning. It all depends on your business needs and requirements to what cleaning services you might need, which is why here at Tatry Group, we provide free quotes, so you get the most out of our service.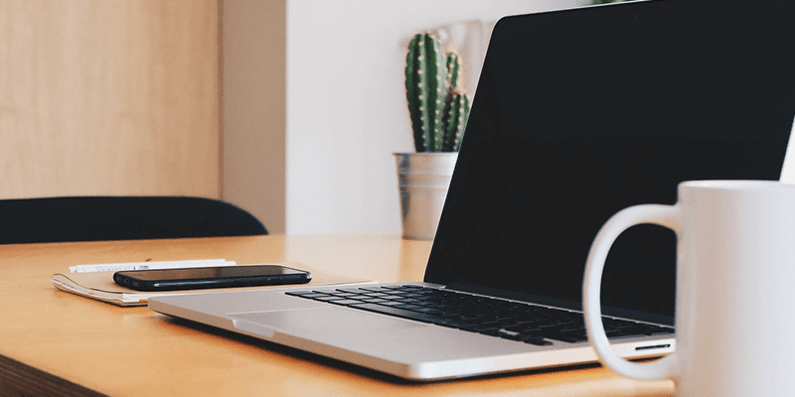 Types Of Commercial Cleaning
If you think your office may need regular cleaning services, then daily cleaning services in northampton will be the option for you. We highly recommend this to any company with staff in the office every day. It's shocking how quickly an office or commercial space can become unhygienic and dirty.
Daily cleaning services can be carried out throughout the day or after hours when the office is vacant. Cleaning services ensure you create a great first impression to guests, staff and clients, providing a professional and organised environment.
Commercial daily cleaning will likely include:
The sanitisation and cleaning of individual workstations, including the dusting, disinfecting and polishing of monitors, keyboards and office phones




Cleaning of touchpoints such as light switches, handles, doorknobs, and desks




Cleaning internal windows and glass




Vacuuming and mopping floors




Cleaning of meeting rooms, reception areas, walkways




Cleaning and sanitising of washrooms and kitchen spaces




Emptying of bins



For commercial properties that host a smaller team, you may want to consider using a periodic cleaning system. Routine cleaning holds all the same tasks as a daily clean. However, cleaning will only be carried out 2-3 times per week. A periodic cleaning system is also often used for offices with a lot of their teams working from home, reducing the number of bacteria and germs within the office or commercial space.
Deep Cleans are now highly sought after, especially in offices that host a large number of people. Covid has also highlighted the need for a good deep clean; it allows your commercial property to stay safe and removes any contamination of bacteria or viruses. A deep clean is more than your daily or routine cleaning; a deep clean reaches all areas of your office or commercial space and allows your cleaning company to disinfect every section of your work area.
​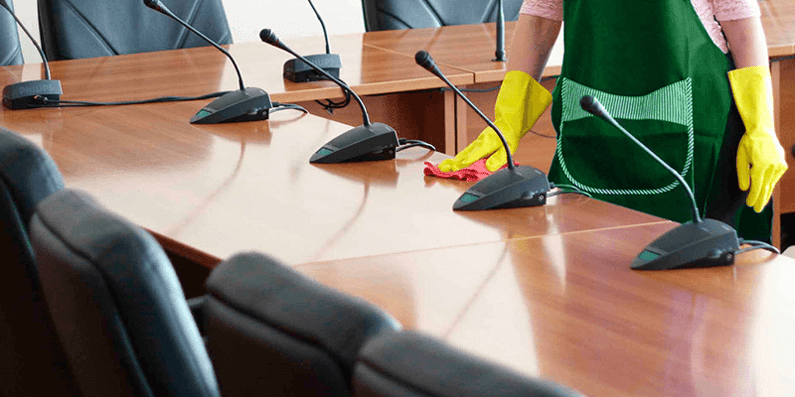 Do I Need A Commercial Cleaner?
Your commercial space is where customers, guests and stakeholders visit to make transactions, complete business and meet your internal teams. It's essential that you make a great first impression and one of the best ways to do this is to employ a commercial cleaning company. We advise looking for a commercial cleaning provider over hiring someone internally because a provider has the expertise and knowledge to carry out thorough cleans. When office cleaning is carried out internally, desktime stated that only 3% of offices sufficiently clean their equipment.
Having a clean commercial space also means your team are more likely to be productive and efficient. Having a clean office space or industrial warehouse makes you less likely to experience accidents at work. Cluttered workplaces can often lead to hazards, creating a safety risk for your employees.
The health and safety of your employees remain incredibly important, and the cleanliness of an office or commercial space often isn't the first thing that comes to mind when thinking about health and safety. Cleaner working environments mean you actively reduce the number of germs and bacteria making their way around your premises. Having staff off sick can often be detrimental to your business, so it's vital you minimise any risk of illness spreading.
Employee well-being is exceptionally important to how productive they are at work. Creating a safe, warm and clean working environment creates a happier working space. With cleaner workspaces comes a more relaxed and motivated task force. 41% of people have said that a clean and tidy workplace has helped to enhance productivity as stated by brother.co.uk. With 2 in 5 people advising that having a messy desk can directly impact their performance.
​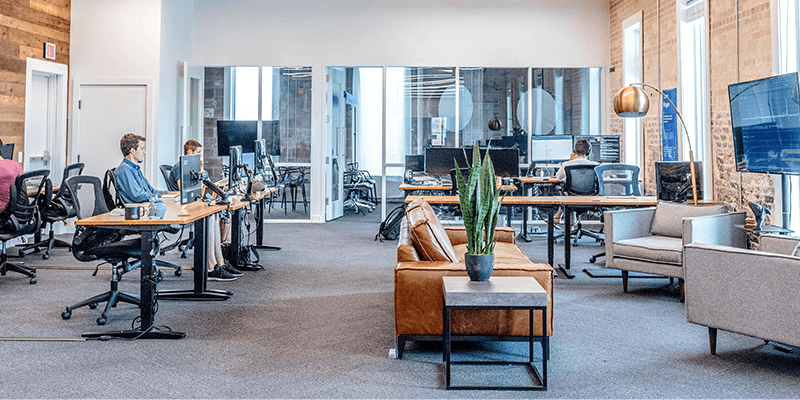 Do You Know How Many Germs Can Be Found In Your Office Or Commercial Space?
It's shocking how quickly bacteria spread in the workplace, and people are often non the wiser about how dirty their office, warehouse or retail environment can be.
According to the Independent, a persons desktop space can harbour up to 20,961 germs per square metre. That also includes around 3,295 on your keyboard and 1,676 on your office mouse. Printerland has also stated that up to 67% of people eat at their desks. Again, this is something that people often think nothing of, however, eating at your desk creates a breading ground for bacteria and germs.
It gets worse; Total Jobs conducted a survey of peoples habits at work, and a whopping 25% of office workers admitted to not washing their hands after visiting the toilet. With germs spreading like wildfire in the workplace, plenty of surfaces and touchpoints collect a high volume of bacteria that cause illness. The office kettle is one of the top 3 places you can find the most germs in an office or commercial establishment. According to tea.co.uk over 100 million cups of tea are made daily, think of how many times you and others would have touched your office kettle, gross!
Some of these stats are surprising, but how clean is your office or commercial space when you think about it? Printerland noted that 22% of sick days taken in the UK is down to the spread of a common cold. If you create a clean and hygienic environment, you will soon see the number of sick days reduced, overall helping the increase of your teams' productivity and efficiency.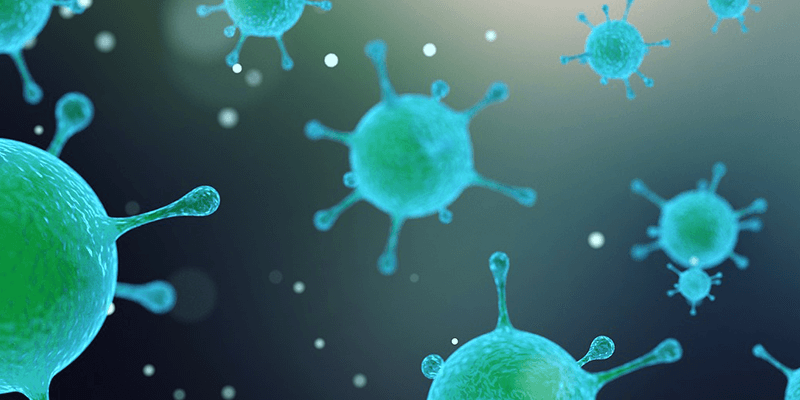 Why would I consider a service provider rather than hiring in-house?
Having a service provider brings a host of benefits to your business. Most companies will provide more than one member of staff; here at Tatry Group, we work under adaptable staffing. Doing so means we can provide cover for all the hours we promised your business even if someone is on annual leave or takes a day or two off sick.
A fully managed process! Yes, fully managed, meaning no stress on your business or staff. Tatry Group provides a local management team that works closely with you to provide ongoing support and answer any questions you may have. For example, for all of our commercial cleaning in Bedford, we will provide a local manager who works closely with a small handful of clients to ensure they receive a high level of service.
If you have someone in-house, they will always need to order new items of washing materials, detergents and disinfectants. Our teams work on a coloured system to maintain a specific cleaning regime. Before their cleaning supplies run out, they will order in advance, ensuring you are never left without a clean workspace, floor or washroom.
Most commercial cleaning companies in Rushden will have insurance to work within your facility, allowing them to clean with machinery. When looking for a commercial cleaning company, we recommend checking their accreditations and insurance.
By having a commercial cleaning provider, you take the stress away from your internal teams. They can focus on their job rather than having to clean their workspaces or empty their bins.

A commercial cleaning company will provide you with well-trained staff.
We have a specific training system that allows our team members to stay on top of their game, providing our customers with the best possible service. With ongoing training and improvements from our management teams, all of our cleaning specialists can develop their skills and knowledge further, meaning you receive great staff who want to achieve greatness.
What areas do you specialise in?
We work closely within six key sectors; the reason for this is our expertise and knowledge. Our founders Jonathan and Paulina, have worked within the industry for more than ten years and have built up a vast amount of insight into how cleaning and security work within our six core sectors.
Corporate & office cleaning in Milton Keynes is where we started this business and has always been what we are exceptionally good at. We have a wide range of office cleaning contracts and continue to win business within this sector based on our outstanding delivery and exceptional customer service.
We also cover Industrial, Government, Hotel, Retail and Education. Each sector and client receives bespoke services, as not all businesses are the same, and what one organisation may need another may not. All of our services are made affordable, so you can get the most out of our service while still receiving a clean and hygienic environment.
Can commercial cleaning be environmentally friendly?
There are so many different commercial cleaning materials now being used within the cleaning industry. Here at Tatry Group, we have been using the Toucan Eco; a fantastic bacteria-killing disinfectant made up of water and salt. The system means we reduce the number of harsh chemicals our employees are around on a daily basis; it also has the added benefit of being able to be made on site. By having it on all of our client's sites, we also reduce the amount of single-use plastic that comes with other chemicals.
Descalers, hand soaps and detergents are all becoming more eco-friendly. Delphis offers a wide range of natural commercial cleaning products, from toilet tablets to polish sprays. There is also plenty of eco products that you can now use at home; Cif offers a range of cleaning products, including anti-bacterial spray and wipes.
As well as cleaning products, cleaning companies are now looking at ways to work more sustainably. At Tatry Group, one of our goals is to have all of our teams using electric vehicles. HeyCar stated a 186% increase in electric vehicles purchased in 2020; with more companies looking to reduce their carbon footprint, buying an electric vehicle might be one of the quickest ways to do it.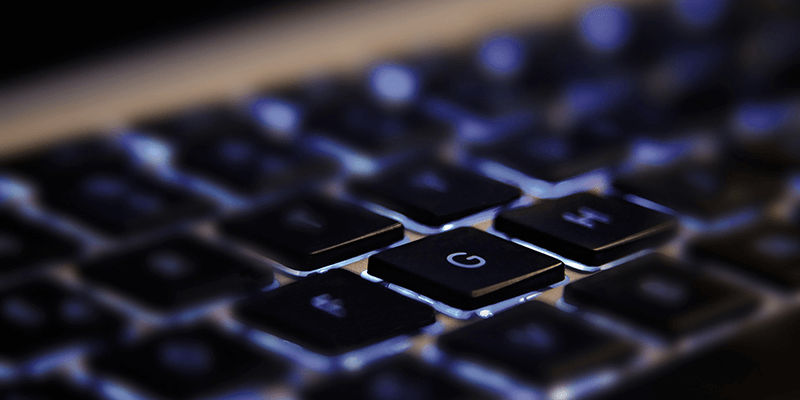 How Tatry Group Can Help With Your Commercial Cleaning Needs!
Tatry Group works closely with each of our clients to provide an outstanding service. We provide a tailored proposal outlining how we will be carrying out our services along with the services we think will suit your business. Once our contract has been agreed, we will work with you to TUPE over any existing staff or hire new team members.
We go through a rigorous hiring process here at Tatry Group as we only hire the best people; doing so ensures that our high level of service is maintained across all of our clients' sites. By hiring great people, we deliver great work! We also pay our staff above the minimum wage; without our front line staff, we would not be where we are today, which is why we believe they should be paid fairly.
​
We mentioned previously that we provide ongoing training and support for our staff; this is done by monthly audits carried out by our local area managers. This allows us to keep track of progress, high standards and service delivery. We also ask all of our clients for regular feedback; this allows our teams to improve and deliver on our promise of outstanding service.
To see how we work with other businesses to complete their commercial cleaning, check out our recent office cleaning contract with
Dandara
.
If you are looking for commercial or
office cleaning services in Aylesbury
, get in touch with a member of our team or fill out a
get a quote form
. We also offer security services for all of the industries we work in; if you would like to know more about these services,
visit our security services page.
​