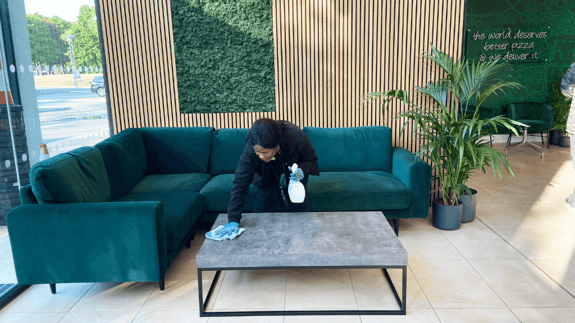 OFFICE CLEANING SERVICES
Whether you're a head office, small office or managing agent for multiple sites, you will appreciate the importance of improving your working environment and minimising risks with cost-saving efficiency.
COMMERCIAL OFFICE CLEANING SERVICES
Choosing a professional commercial office cleaning provider to take care of your business means you will create the right environment for your organisation, colleagues and guests. Our team take pride in what we do, guaranteeing consistently high standards and reliability.
Tatry Group works with your business to establish the best plan based on your requirements and budget. Our tailored quotes mean you get the best out of our people and maintain a clean and safe environment.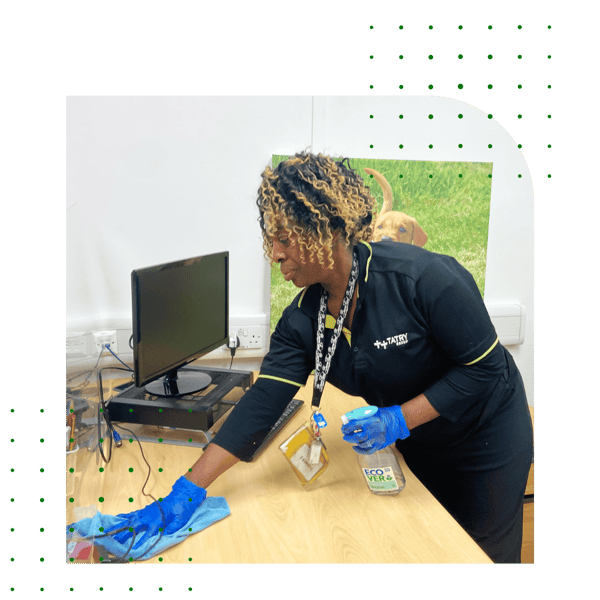 COST-EFFECTIVE DAILY OFFICE CLEANERS
As our core service, we recognise that providing a clean office environment is a crucial component of a modern, effective organisation. Through years of experience, we know that a tailored approach is what works best. Whether you have a sizeable multi-floor facility or a smaller office, our daily office cleaning services maintain facilities to the highest standards.
TYPICAL OFFICE SPACE CLEANING SERVICES INCLUDE
Site-Specific Training Programme
Bespoke Cleaning Specification for Your Office
Desk and Telephone Cleaning
Washroom Cleaning
Kitchen Cleaning
Window Cleaning
Carpet Cleaning
Waste Management, Removal & Recycling
Consumable Supply and Replenishment​
Urgent Deep Cleans When Required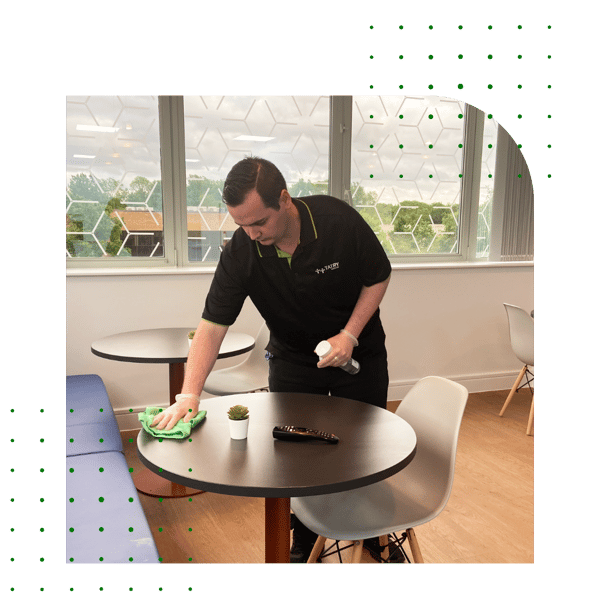 LETS GET YOU STARTED
Speak to a member of our team, so we can provide you with a tailored quote.
WORKING WITH SUSTAINABLE PRODUCTS
Our cleaning staff utilise environmentally friendly, sustainable products that are less harsh and destructive to the environment as part of our effort to become a more eco-friendly organisation. We can eliminate up to 99.99% of bacteria by utilising more environmentally friendly products and significantly lower the cost of consumables on site.
OFFICE CLEANING CASE STUDIES
Discover more about the services we offer and the positive experiences our clients have had dealing with Tatry Group.
LIVING WAGE FOUNDATION
LIVING WAGE EMPLOYER
OFFICE CLEANING COMPANIES FREQUENTLY ASKED QUESTIONS
HOW OFTEN WILL YOU CLEAN OUR SITE?
We tailor all of our services to your individual needs, which also means we work around your organisation. The number of days we complete your corporate office cleaning will also depend on your specific requirements.
DO YOU CARRY OUT REGULAR QUALITY CONTROL?
All of our clients are appointed a local area manager who attends the site regularly to carry out audits. Our teams are also visited monthly to ensure they receive ongoing training allowing us to maintain our high cleaning standards.
WHAT HAPPENS IF MY CLEANER IS UNABLE TO ATTEND WORK?
All of our office cleaning contracts ensure you are never without a cleaning team member. Whether your corporate office cleaner is on annual leave or has had to take the day off due to sickness, we will always have another team member to cover your site.
WILL OUR TRANSITION TO TATRY GROUP BE SMOOTH?
During the mobilisation process, our internal teams can help guide you every step of the way. We are extremely knowledgeable about the TUPE process as they are a part of our everyday business. Our local area manager will also be available to assist where needed.
WHAT OUR COMMERCIAL CLIENTS HAVE TO SAY
"We had been recommended Tatry Group by another company in our building. The service they deliver is fantastic, our cleaners are always on time, and clean our office space to the highest standard. Where needed we also request additional hours and Tatry Group have always been accommodating. "